Accommodation Features·Facility
Accommodation Features·Facility

A facility in facilities
Parking lot 60 free parking lot
Supplies·Facilities
2 karaoke rooms(B1)/shop(1F)/Rooftop observatory/Banquet Hall/Banquet rooms/

vending machine/Courtesy bus/Massage service(Entrust)/morning Call/home delivery/

Wired LAN(House lobby)/AED/Putter Golf Course (Green season)

Number of rooms 58 rooms Main Building/43 rooms ANNEX Building
Main Building·Palace Building + ANNEX Building (Annex)
The front desk is located in the main building 1F.
You can take a stairway from the front desk and connect to the public bath and Palace Building.
Also, the ANNEX Building will go to the right of the aisle from the front desk.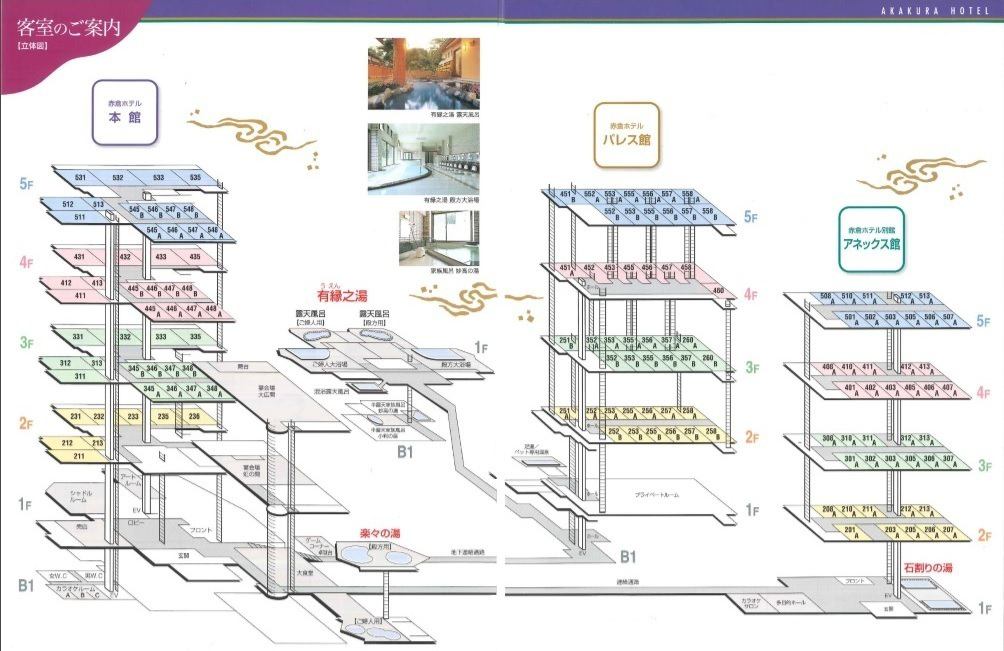 ◎ Shadoru Room

After check-in, I will take a rest here.

All the windows of the Shadoru Room face the garden on the side of the annex building.

Relaxing while relaxing while watching the outside.

For our guests, we will offer our hotel handmade Ohagi.

A refreshing sweetness that works for tiredness on the outward trip is popular.Please have a good time.
Next morning you stay, please have a morning coffee.

◎ Rooftop observation deck viewing Mount Myoko

What is most surprising to our customers is that you can see Mount Myoko, a Japan's100 Remarkable Mountains that is also one of Japan's100 Remarkable Mountains.

Around the top of Mount Myoko, Kan'nasan to the right, there is a Mt Akakura to the left, looks like a mountain range, which consists of three mountain.

In the morning, take a deep breath of refreshing air through your chest while seeing the Akakura Onsen town where the light from the clouds is plugged in.

When there is no cloud, it is a beautiful sight that seems only like an illusion.

However, even employees of our hotel are rare scenes that I have never seen so far, so please try to get up early in case of lodging.

◎ "In a facility that colors with flowers"


Flowers per season vividly colors in front of the entrance, courtyard, lobby and so on.



It is installed in the lobby Obutsudan (buddhist family altar)

Many successors have faith in Buddha law, and Daibutsudan (buddhist altar) are set in the hotel lobby.
Everyone who comes to our guests can adjust hands in the morning and evening.
In November every year, an Yuen-ko (lecture of Hot spring and Buddhism) is held at the event, and a lot of Mt. Temple organizations are coming from all over the country.

Karaoke Bar Yukitsubaki

ANNEX Building 1F "Karaoke Bar Yukitsubaki"

You can enter up to about 30 people.

Please use it for the second party of the party.

 1 person, 1 with a drink @ 1,000(Different)

 Last business hours, until 23: 00 (fully booked)

         ※Please make a reservation to the front desk.

Paintings etc in the facility · · ·

Paintings of "Michio Miyazaki Exhibition" are decorated in the underpass where you go from the main building to the public bath "Okayama Yuen no yu".
If there is something I like in the work, I also sell it.
Other furniture and paintings of famous painters are also displayed.


◎ Large conference room

◎ Meeting room
Number of rooms

103 rooms in total:Western-style room 25 rooms / Japanese-style rooms 12 rooms / Japanese + Western room 63 rooms / 3 other rooms

Standard room facilities

All rooms bath toilet / all rooms shower / TV / empty refrigerator

Amenities

Hand towel / toothbrush·Toothpaste / bath towel / shampoo / rinse / body soap / soap / yukata / dryer / shaving / shower toilet / shower cap / comb·brush

Facility content

Table tennis / Banquet room / Karaoke facility(Toll) / Ski drying room

Service & Leisure (including arrangement)

Massage(Toll) /golf(Toll) /Putter Golf(Toll) /Ceramics(Toll) /Shogi(Toll) /Go(Toll) /Mahjong (Toll)

Credit cards available locally

JCB / VISA / Mastercard/American Express / UC / DC / NICOS / Diners/UFJ

Standard check-in time

15:00

Standard checkout time

10:00

Supplement for amenity

Annex is only in the winter season (12 ~ March) Parking lot is 1,000 yen town use parking lot a day · 5 minutes on foot, Annex is summer term no air conditioning (for electric fan)

Onsen tax

Hotspring tax adult 150 yen separately.

Cancellation provisions

2 days ago:30% of room charge
1 day ago:50% of the room charge
On the day of arrival:100% of the accommodation fee
Cancellation without any contact:100% of the accommodation fee
※If there is a cancellation rule setting for each accommodation plan, that will be given priority.
Hot Springs

Akakura Onsen(Natural hot spring 100%) Hot Spring Baskdown ※It does not include artificial hot springs

Open Air Bath

Yes (There are also men and women and can not be reserved)

Private Bath

There(Conditioned)

Number of baths

"Outdoor bath] Man: 1 Female: 1 Mixed Bath: 0
[Inner bath] Man: 3 Female: 3 Mixed Bath: 0
[sauna] Man: 1 Female: 1 Mixed Bath: 0

Other bath facilities

Sauna / Jacuzzi

Bath Terms of Use

Private bath once 2160 yen